Ibrahim "Ah Chai" Amir
Ibrahim Amir couldn't help but smile all the way to the bank as he wins the 2nd Golden Break 9 Ball Invitational Championship 2010 at Golden Break Snooker & Pool Club. He beats 14 year old Ko Pin Chung from Chinese Taipei by 13-10.
Before the Final began, everyone while waiting for the match to begin, were wondering whether Chinese Taipei will repeat last year's feat and bring the trophy back. Ko with his fluent matchplay and playing his first overseas tournament final seemed totally calm while Ibrahim was his usual self bouncing from one group to another, chit chatting, both waiting for the emcee to announce the match to start.
Winning the lag, Ko immediately cleared 2 racks to lead 2-0 but Ibrahim stopped his stride to win Rack 2 to narrow the gap. Ko won the next 2 racks to extend the lead to 4-1, leaving everyone watching the match sweating in their seats. Ibrahim managed to win the next 2 racks, to narrow back the gap to one rack but was not for long as Ko yet agains extends it to 6-3.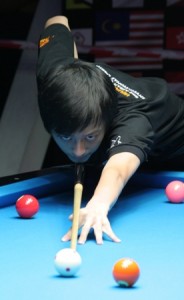 When the score reached 7-5 with Ko leading, Ibrahim pulled out his bag of tricks and immediately turned around the match, winning 5 racks straight to lead 10-7. Ko was totally stumped and seem to have lost his form and could only win one rack while Ibrahim wins another two to reach the hill, needing only one more rack from 12-8. After a short break, Ko came back to the table to clear 2 racks, again reducing his trail to two gaps. But that was only all he could do as Ibrahim with a good safety in Rack 23, forced Ko to give him one more opportunity which he capitalized and went to win rack and match, winning the Championship with a scoreline of 13-10.
Ibrahim Amir with his trophy and mock cheque
What was even better for the night was The Management of Golden Break Snooker & Pool Club decided to top up RM 8,000 as a bonus for Ibrahim's effort and outstanding performance, and also successfully retaining the trophy and title in Malaysia. They also gave Patrick Ooi an additional RM 2,000 for his Semi Final effort. Ibrahim walks away from the Championship with cash prize of USD 5,000 and RM 8,000, a very glimmering trophy and the Champion's title.
Final Result
Ko Pin Chung (TPE) 10 vs 13 Ibrahim Amir (MAS)
Click for knock out stage result—>golden-break-final-knockout-stages-result