Tournament
2019/08/19 21:06

1295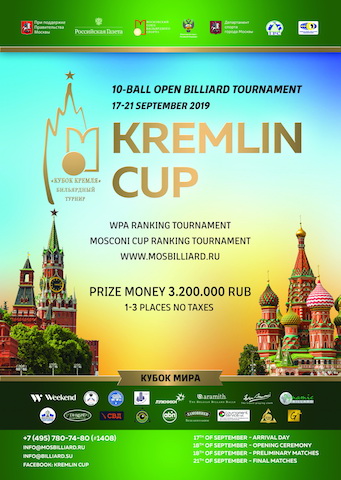 Information:>>
MOSCOW. 17-21 SEPTEMBER
KREMLIN CUP 2019
10-BALL OPEN BILLIARD TOURNAMENT
The Kremlin Cup – is one of the most prestigious and status tournament in Russia and Eastern Europe. Luzhniki Olympic Complex will gather the elite of the world pool and pyramid, the best athletes from more than 30 countries.
Moscow holds Kremlin Cup 14 times in a row, this tournament occupies place in the WPA and EPBF calendars, has a status of the World Cup in Pyramid and Mosconi Ranking Cup in Pool, and is famous for its hospitality, quality of organization and love of the audience.
This time the competition will be held in the heart of the sports capital, a favorite place of Moscow citizens — Luzhniki.
Luzhniki was the main stadium of the 1980 Olympic Games, hosting the opening and closing ceremonies. Few years ago, the stadium was renovated and became the main arena of the 2018 FIFA World Cup.
We invite you to participate in the billiard Kremlin Cup 2019 in Luzhniki!
DATES
Accreditation 17/09 14:00 – 19:00
Opening ceremony: 18/09 12:00
Tournament start: 18/09 10:00 – 21:00
Last 32: 19-20/09 10:00 – 21:00
Final: 21/09 12:00
Accreditation and the main venue: Sports Complex Luzhniki (Malaya Arena), Moscow, Luzhniki str. 24.3
HOTEL
Yunost Hotel, for RESERVATION: write a letter – reservation@yunost.com – codeword BILLIARD (special price) | www.hotelyunost.com
MODE
Visa: For visa support contact: info@billiard.su
Entry-fee paid on Accreditation: 10 000 RUB
Total prize-money: 3 200 000 RUB
DRESSCODE
Dark shoes, dark dress pants (not jeans, not slacks), no rivets, and jewelry. For men – shirt long sleeve, for women – blouse.
GENERAL INFORMATION
Contact: +7 (495) 780-74-80 (1408)
e-mail: info@mosbilliard.ru, info@billiard.su
Facebook: Kremlin Cup