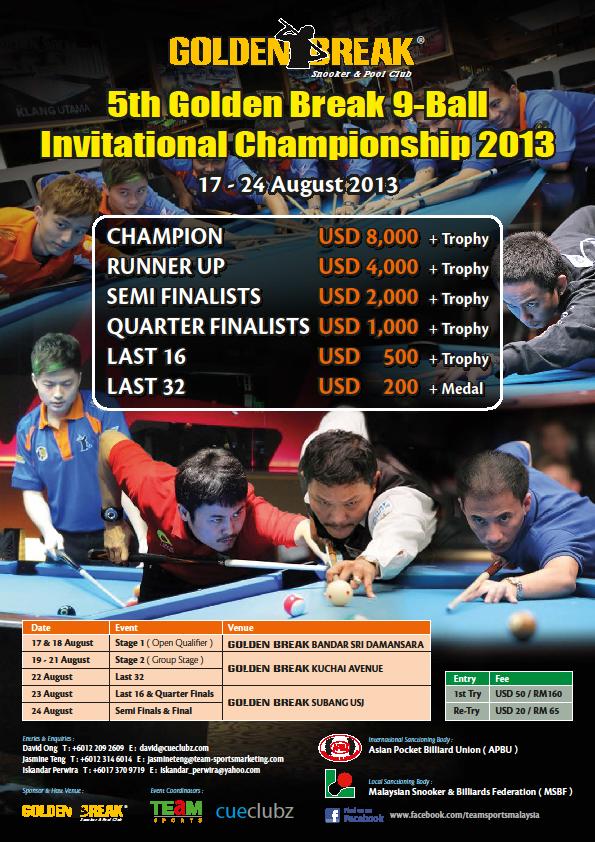 For The event result: GB9BIC2013-Last32-Results
 For the event detail:GB9BAIC 2013 – Tournament Factsheet
 NEWS from:http://cueclubz.blogspot.tw/ 
 Chinese Taipei's Chang Jung Lin finally wins the 5th Golden Break 9 Ball Invitational Championship 2013 after beating Indonesia's Muhd Zulfikri 15-10 in a nail biting Final yesterday night.
It was his 2nd attempt at the title after losing out early in last year's Championship, which his fellow countryman Ko Ping Chung became the eventual winner. Chang played well throughout the tournament, not encountering much obstacle in advancing through the rounds. The only close fought match was against his own mate Chang Yu Lung, whom took him all the way to the final rack.
Chang Jung Lin takes home cash prize USD 8,000 and the beautiful Champion's trophy whilst Muhd Zulfikri only manages the Runner up's trophy and cash prize of USD 4,000.
Semi Finals
Liu Cheng Chie (TPE)
10 – 13
Muhd Zulfikri (INA)
Chang Jung Lin (TPE)
13 – 8
Kevin Uzzell (GBR)
Chang Jung Lin (TPE)
15 – 10
Muhd Zulfikri (INA)