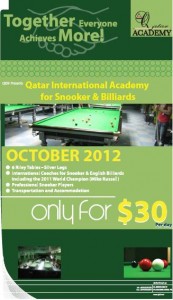 Qatar Billiard & Snooker Federation offers its warm greeting and wishing you continued success.
We are keen to keep up our communication with you for the benefit of developing the snooker game in our region, and to work together as a team .
we would like to bring to your attention that Qatar International Academy for (Snooker , Pool ,English Billiards)
has been opened and we welcome you all to participate.  And the carom ball will be added to the academy very soon.
Please find below all details for the academy :
Fees of 30 US$ per day for each player covering all the following:
Transportation from to venue and airport.
accommodation. 
6 Riley  Snooker tables silver leg and 8 Diamond pool table are included.
Visa Fees.
Number of players and dates of camp are required for booking.
 A special publication about the academy is enclosed for your information.  For more details please contact Mr. Ihab M: 00974 66741741.
 NEWS BY Mohgamed Al-Nuaimi
Secretary General-QBSF