January, 2010 Archives
2010/01/05 16:35

3243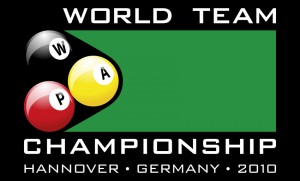 WPA President: Mr. Ian Anderson: From the 30th January to the 7th February the inaugural WORLD TEAMS CHAMPIONSHIP 2010 event will take place in Hanover, Germany. With prize money of $400,000 on offer, it assures the very best players from all around the world will be competing. This event is supported and sanctioned by the WPA.
It promises to be very exciting, and could well be the most interesting event ever with its unique format. All countries have to opportunity to nominate a four, five or six person team, and all matches will include the disciplines of 8-Ball, 9-Ball and 10-Ball. Each match will feature singles and doubles play, therefore the strategy of how a country selects its team is critical. They need to select specialists in each discipline, and the players can be all male, all female, or a combination of both.
I encourage everyone to go and see these great players in action, nothing is better to feel the tension and electric atmosphere than by seeing it live. For those who cannot attend, it will be live-streamed over the internet.
For all details, see www.wtc-2010.com