4TH GOLDEN BREAK 9 BALL INVITATIONAL CHAMPIONSHIP 2012
Date: 23RD AUG TO 1ST SEP 2012
The news from:www.cueclubz.com
Saturday, September 1, 2012
(l-r) Ko Pin Yi, Golden Break Group Chairman Mr Shin and Ko Ping Chung
Chinese Taipei's Ko Ping Chung finally makes it on his third attempt as he beats his elder brother Ko Pin Yi to lift the Champion's trophy at the 4th Golden Break 9 Ball Asia Invitational Championship 2012 here at Golden Break Subang USJ.
Majority predicted Pin Yi to be the winner as he played a better game today compared to his younger brother. This was however immediately proven wrong when the match started, as Ping Chung sped off straight to a 7-2 lead, leaving Pin Yi clueless as he trails behind.
Pin Yi tried to close the gap but was still far behind, the closest at 9-11 trailing. That was the last rack Pin Yi could win as Ping Chung took remaining the 2 rack, winning the match and Championship by 13-9.
Ping Chung takes home the Champion's trophy and cash prize USD8,000 whilst his brother Pin Yi takes USD 4,000 cash prize for his Runner up effort.
For more photos from the event, kindly visit Team Sports Marketing Facebook page by clicking
here
.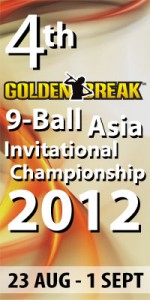 The website:http://cueclubz.blogspot.tw
Updated>>Top 32 Draw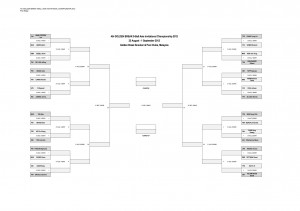 For more photo and news, please join the facebook:
www.facebook.com/teamsportsmalaysia
Venue:
1.stage 2
GOLDEN BREAK Sri Damansara
2 & 3, No 13C, jalan Tembaga
SD 5/2A, Bandar Sri Damansara
52200 Kuala Lumpur, Malaysia
Tel: +60-12-3303676
Outlet Maanger: Benjamin Lee
2. For Last 32 to Final
GOLDEN BREAK USJ
1st Floor, Lot 677
Persiaran Subang Permai USJ 1
Subang Jaya
47500 Selangor, Malaysia
Tel: +60-12-4985111
Outlet Manager: Michael Soh
Attached, please find the event factsheet for your reference.
>>>>GB9BIC 2012 – Event Factsheet
>>>>entry form–GB9BIC-MAIN-Player List
For entry,
Please Contact : Ms.Jasmine Teng
Tel: +60-12-3146014
Email: jasmineteng@team-sportsmarketing.com