Hong K

o

ng East Asian Games RESULT!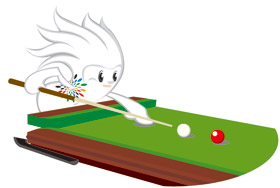 Cue Sport
Date: 3rd Dec 2009 ~ 7th Dec 2009
 Dear friends,
Please click the 2009_EAG_Draw  results for all discipline. Thanks to HKBSCC for the wonderful event and the updated results. Also congratulations to all players participated in Hong Kong East Asian Games.
Location: Hong kong International Trade and Exhibition Centre
Official result website:
http://results.2009eastasiangames.hk/en/Comp.mvc/DetailedScheduleByDate?sportCode=BI&day=03-12-2009&expandAll=False
            — 6 Red Snooker Singles
                   —Gold: Chen Xue 陳雪(China)
                   —Silver: Bi ZhuQing 畢竹清(China)
                   —Bronze: Cha You Ram (Korea)
            — 9-Ball Pool Singles
                   —Gold: Kim Ga Young ( Korea)
                   —Silver: Chihiro Kawahara (Japan)
                  —Bronze: Lin Yuan Chun (TPE)       
           –15-red Snooker Singles
                —Gold: Tian PengFei 田鵬飛(China)
               —Silver:Yu Delu 于德陸(China)
              —Bronze: Wu Yu-Lun 吳育綸(TPE)
           –  6-red Snooker Singles
               —Gold: Yu Delu 于德陸(China)
               —Silver:Tian PengFei 田鵬飛(China)
               —Bronze: Wu Yu Lun 吳育綸(TPE)
           –  Snooker Team
               —Gold:Hong Kong  Team
               —Silver: TPE Team
               —Bronze: China Team
           –  9-ball Pool Singles
              —Gold: Kwok Chi Ho 郭志浩(Hong Kong, China)
              —Silver: Yang, Ching Shun楊清順(TPE)
              —Bronze: Oi Naoyuki 大井直幸(Japan)
          –  English Billiards Singles
              —Gold : Hwang Chul Ho 黃喆浩(Korea)
              —Silver: Eric Lee 李銘皆(Hong Kong, China)
              —Bronze: Lee Chen Man 李俊文 (Hong Kong , China)
          –  One-Cushion Carom Singles
               —Gold:Mori Yoichiro 森陽一郎(Japan)
               —Silver: Machida Tadashi 町田正(Japan)
               —Bronze:Lim Hyun Sung 林賢成 (Korea)