News
2013/08/16 10:25

2708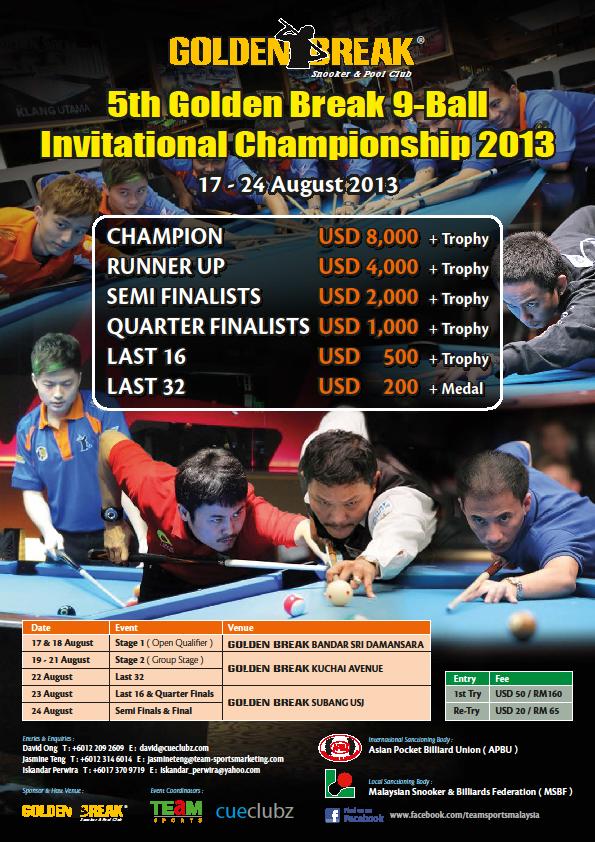 For The event result: GB9BIC2013-Last32-Results
 For the event detail:GB9BAIC 2013 – Tournament Factsheet
 NEWS from:http://cueclubz.blogspot.tw/ 
 Chinese Taipei's Chang Jung Lin finally wins the 5th Golden Break 9 Ball Invitational Championship 2013 after beating Indonesia's Muhd Zulfikri 15-10 in a nail biting Final yesterday night.
It was his 2nd attempt at the title after losing out early in last year's Championship, which his fellow countryman Ko Ping Chung became the eventual winner. Chang played well throughout the tournament, not encountering much obstacle in advancing through the rounds. The only close fought match was against his own mate Chang Yu Lung, whom took him all the way to the final rack.
Chang Jung Lin takes home cash prize USD 8,000 and the beautiful Champion's trophy whilst Muhd Zulfikri only manages the Runner up's trophy and cash prize of USD 4,000.
Semi Finals
Liu Cheng Chie (TPE)
10 – 13
Muhd Zulfikri (INA)
Chang Jung Lin (TPE)
13 – 8
Kevin Uzzell (GBR)
Chang Jung Lin (TPE)
15 – 10
Muhd Zulfikri (INA)
2013/06/28 13:29

4739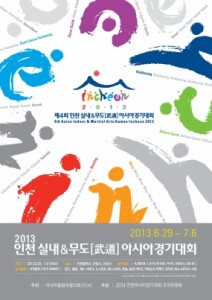 Incheon Asian Indoor & Martial Arts
The 4th Asian Indoor Games took place in Incheon Korea from 29 June to 6 July.
The result>>Results of 4th Indoor & Martial Arts Games
After the result the updated Ranking>>20130710APBU RANKING Women Overall
Men's ranking>>20130710APBU RANKING Men Overall
The Draw >> CLICK >>
    Draw Chart of Billiard Sports in 2013 Incheon AIMAG
Table allocation may subject to change due to TV broadcaster's request.
The Schedule:Competition Schedule for 4th AIMAG(최종 V1)
The official website:http://www.aimag2013.org/en/Introduction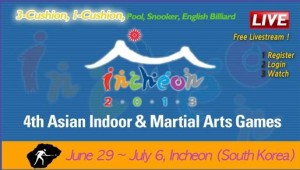 The Livestream: http://www.kozoom.com/en/billiard-carom/
2012/12/26 11:17

1692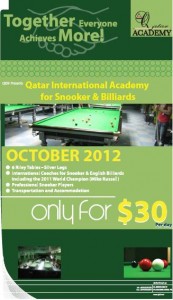 Qatar Billiard & Snooker Federation offers its warm greeting and wishing you continued success.
We are keen to keep up our communication with you for the benefit of developing the snooker game in our region, and to work together as a team .
we would like to bring to your attention that Qatar International Academy for (Snooker , Pool ,English Billiards)
has been opened and we welcome you all to participate.  And the carom ball will be added to the academy very soon.
Please find below all details for the academy :
Fees of 30 US$ per day for each player covering all the following:
Transportation from to venue and airport.
accommodation. 
6 Riley  Snooker tables silver leg and 8 Diamond pool table are included.
Visa Fees.
Number of players and dates of camp are required for booking.
 A special publication about the academy is enclosed for your information.  For more details please contact Mr. Ihab M: 00974 66741741.
 NEWS BY Mohgamed Al-Nuaimi
Secretary General-QBSF
2012/12/26 11:11

1676
Press release from Bangladesh